FEATURED VIDEO
Dave's most recent promo video represents a reflection on 2020:
These are strange times. Live music has been placed on a temporary hold and yet, especially for musicians and artists, the show must go on. Although this time has been a wonderful opportunity to make strides with music, I miss the energy and buzz of performing for a crowd.
Normally, a promotional video for Dave Damage would share footage from a live performance. After all, I'm used to being surrounded by people – people dancing, interacting with me while I perform. Unfortunately, in COVID times that simply is not a possibility.
This video as a form of commentary on my current situation, using mannequins to replace a live audience until I can return to performing for actual people. In a way, it's like being in front of an audience again; I hope this video captures the surreality of not being able to perform, yet wanting to bare my soul on stage. Strange times, indeed…
Music: Modd – Mabi (Original Mix x Dave Damage Violin Edit)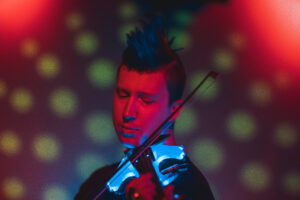 James Kitcher & Dave Damage – Dolcinea (Club Mix)
Release date: October 29, 2021
Tracks
Dave Damage plays almost entirely by ear when performing live, which comes in handy when recording, too.
His unique take on his instrument has seen him incorporate the violin, which is predominantly seen as a classical instrument, into styles that include electronica (house, techno, EDM, trance, progressive house, melodic techno, and even drumnbass and dubstep), hip hop, rock, Latin music (salsa, reggaeton, and bachata) and much more.
Want to hear how the violin can fit seamlessly into multiple genres of music? Take a listen to some of Dave Damage's most recent recordings.
Interested in collaborating?